EDIT MAIN
The boundary map for Spring Grove Elementary (Pre-K to 5th Grade) is in purple, the boundary map for Richmond Grade School (Pre-K to 5th Grade) is in dark blue and Nippersink Middle School (6-8th Grade) boundary is the two areas combined (whole map). There are a few areas that will need clarification based on their street address. Please call the transportation department for assistance.
815.678.2232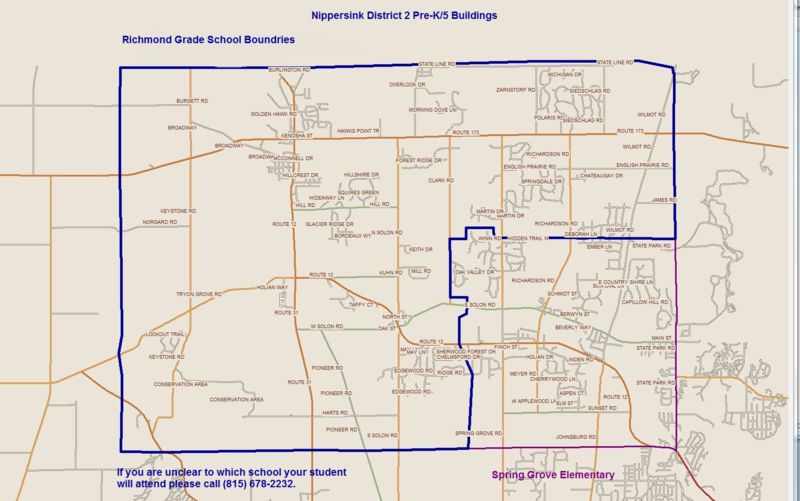 PRIVATE TRANSPORTATION
A student may accept private transportation to or from school only as arranged by their parents. Parents may call the office or send a signed note regarding any changes in transportation arrangements.
TRANSPORTATION INFORMATION
Bus service is provided free for all students who live outside a 1 1/2-mile radius. Students living within this radius may ride the bus at a minimal cost per year. If you have any concerns or questions about the busing, please call transportation at (815) 678-2232. A student's parent(s)/guardian(s) may file a petition with the Board requesting transportation due to the existence of a serious safety hazard. Free transportation service and vehicle adaptation are provided for a special education student are included in the student's individualized educational program. Non-public school students shall be transported in accordance with State law. Homeless students shall be transported in accordance with the McKinney Homeless Assistance Act.
A student who is suspended from riding the school bus and who do not have alternative transportation to school shall be allowed the opportunity to make up all missed work for equivalent academic credit. It is the responsibility of the student's parent or guardian to notify the school that the student does not have alternative transportation to school.
TRANSPORTATION NOTE*
Please be at your stop 10 minutes before the bus is scheduled.