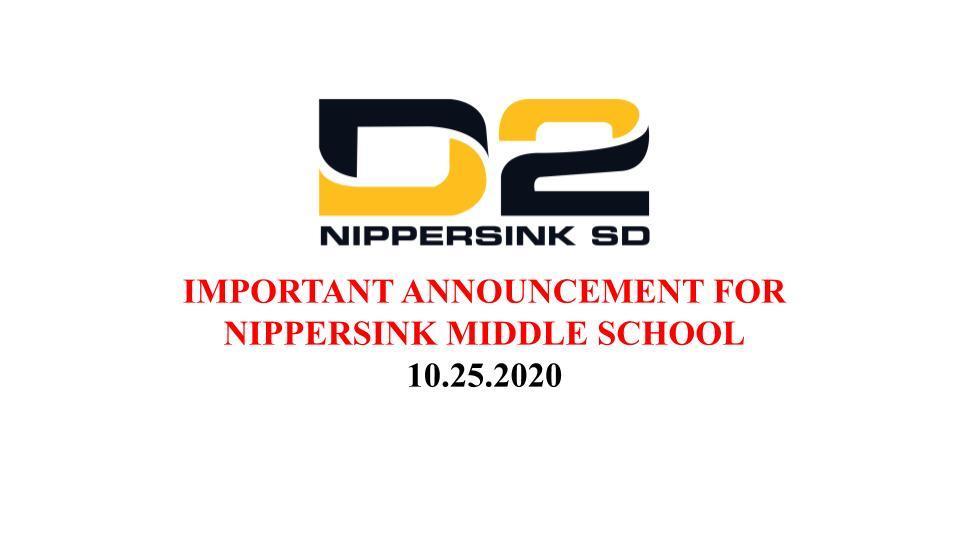 NMS Return to Fully Remote on 10-26-2020
Dr. Tom Lind
Sunday, October 25, 2020
Good Afternoon,
Over the weekend we were alerted that two staff members at Nippersink Middle School had tested positive for COVID-19. Neither of the cases are connected to each other and through contact tracing and according to CDC/IDPH and district protocols we have asked three additional staff members to quarantine.
Out of an abundance of caution, we are going to pause our hybrid instruction at Nippersink Middle School until November 9, 2020. Starting tomorrow, Monday, October 26th, 6th through 8th grades will return to fully remote learning. During this time, we will deep clean NMS and reevaluate the situation. Mr. Molitor, NMS principal, will be sending more detailed information this afternoon regarding the move back to our fully remote learning plan.
Currently, we have no known positive cases at either Richmond Grade School or Spring Grove Elementary. The hybrid will move forward, as scheduled, at both elementary schools with all health mitigations and safety protocols in place.
Please remember that as a parent or guardian, you have the right to choose our fully remote learning option at any time. If you have specific questions regarding this please contact your child's principal.
Nippersink School District 2 remains committed to providing a learning environment that is safe. This means we must be ready to act quickly and change direction at any time to maintain the safety and health of our students and staff. We want to thank all of you for your continued support as we navigate this health crisis and do what is best for students.
Thank you,
Dr. Tom Lind, Superintendent